We provide customized solutions by calculating, designing, and assisting in the selection of equipment that fits your pumping needs. Contact us to find the optimal pump solution for your requirements.
Our fish pumps are available in 4, 6, 8, and 10-inch sizes. All of our fish pumps come with automatic priming. The automatic pump comes with minimum water flow control, fish quantity regulation, and constant water flow control. The system is controlled by a touch screen. The pump can be connected with Ethernet to the vaccination machine or an existing network, so it adjusts the amount of fish based on the needs of the vaccination machine. The pump can also be used for level regulation of tanks during pause or overnight. The pump is also well-suited for pumping fish for other purposes as it delivers the fish very evenly.
Maskon Fish pump 4″, 6″, 8″ or 10″
The pump is equipped with a powerful motor and sensors that automatically ensure a consistent transport speed and uniform amount of fish, while also maintaining the water level in the tank.
The pump constantly regulates the water and fish flow rate, regardless of the suction height.
The pump housing has a large diameter, allowing for a slower pump speed, which provides better fish welfare.
The set point on the quantity sensor is controlled by the amount of fish in the buffer tank, but can also be controlled by the operator during sorting/moving of fish.
If air enters the pump, it will automatically prime itself.
A sensor is included to monitor the level in the tank during production breaks (e.g. overnight).
The pump instantly detects any potential hose breakage and stops automatically.
The power transmission occurs through a robust timing belt, which significantly reduces power loss.
Our pumps are equipped with automatic central lubrication of bearings, with the grease cartridge being replaced once a year. The pumps have a large diameter on the housing and impeller to operate at a lower speed, which is more gentle on the fish. The pumps can be directly controlled from the touch panel on Maskon's vaccination machine.
Series pumping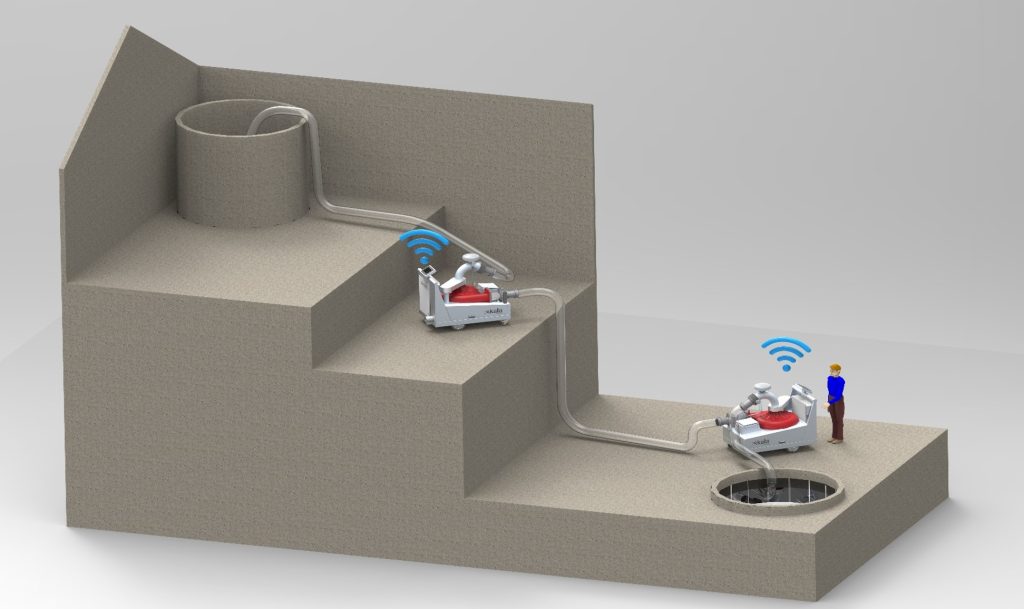 When pumping over long or high distances, it may be necessary to divide the pumping section. Our fish pumps communicate with each other and synchronize the speed automatically. We use the pressure in the pump circuit as a measuring parameter and distribute the load so that the fish are not overloaded.
Spare parts
Spare impeller for vacuum pump.
Flow-sensor 4–20mA
Pressure sensor 4-20mA
Level sensor for vacuum pump
Repair kit for lubrication, to be replaced once a year
Drive belt
Accessories/Options
WiFi control
Remote control
Extra control screen
Remote PC with control screen for easier support and training
Cam-lock and DN-flange connections
Here you can see how the fish pump works: